Organize your space for peace of mind and to focus on your authentic self. Barjon's has a selection of titles available now to help you on your journey, including:
YOUR SPACIOUS SELF
By Stephanie Bennett Vogt
Clear your home, quiet the mind, and restore your spirit, in ways that feel good and last a lifetime. Included are daily tips and meditations, a weekly worksheet, guidelines for starting and maintaining a clearing support group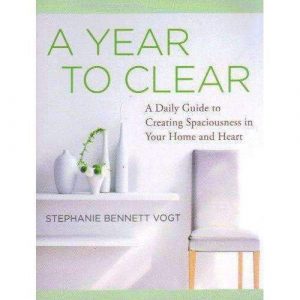 A YEAR TO CLEAR
By Stephanie Bennett Vogt
In A Year to Clear, leading space-clearing expert Stephanie Bennett Vogt takes you on a journey of self-discovery, letting go, and transformation. Each of the 365 lessons—organized into 52 weeklong themes—offers daily inspiration designed to release stress and stuff in ways that lighten, enlighten, and last.
CLEAR YOUR CLUTTER WITH FENG SHUI
By Karen Kingston
Kingston's unique approach lies in understanding that clutter is stuck energy that has far-reaching physical, mental, emotional, and spiritual effects. You'll be motivated to clutter clear as never before when you realize just how much your junk has been holding you back!