Join us in reading this month's featured title The Everyday Empath, by Raven Digitalis, and visit with the author in person at his book signing at 4pm and Q&A discussion at 6pm in lieu of our regular meeting on May 22.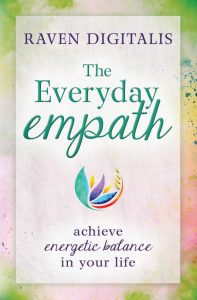 Deepen Your Understanding of Empathy, Develop Your Gifts, and Discover Emotional Balance
Enrich your knowledge of empathy and improve your empathic abilities with this captivating, easy-to-use guide. The Everyday Empath offers a well-rounded view of what it means to experience high levels of empathy in daily life. Featuring exercises, examples, and insights, it's an essential resource to have on your shelf.
Explore empathic self-care and how to spiritualize your empathy through daily meditation, prayer, shrines, vision boards, and more. Learn about the importance of creative expression and astrological shifts. Find out how to share your gifts with friends, family, and your community. From science to spirituality, this book shows you how to achieve personal balance and reveals new ideas that will help you thrive in your empathic life.
Author Raven Digitalis is the co-founder of a nonprofit multicultural temple called Opus Aima Obscuræ (OAO), which primarily observes NeoPagan and Hindu traditions. Raven has been an earth-based practitioner since 1999, a Priest since 2003, a Freemason since 2012, and an empath all of his life. He holds a degree in anthropology from the University of Montana and is also a professional Tarot reader, DJ, small-scale farmer and animal rights advocate.
What is the Wild Readers Book Club?
Wild readers are we who seek to consciously select stories that entertain, inspire and uplift with the deliberate purpose to influence and change our own selves into what we want to see more of in the world. Contact info@barjonsbooks.com for more information about our regular meetings and join in!