Author Book Signing with Maylene Robertson & Nicole Biondich
~AUTHOR SPECIAL EVENT ~
with Nicole Biondich & Mayline Robertson
Authors of Transforming Relationships Through Belief Work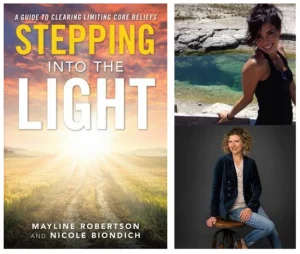 Get your book signed, then join the authors for  a chapter reading a 2:00 pm.
Meet the authors Stepping Into The Light: A Guide To Clearing Limiting Core Beliefs showcasing their NEW BOOK "Transforming Relationships Through Belief Work" Your life is a rich tapestry woven from the threads of relationships that your soul has been drawn to experience in order to learn many valuable lessons. Relationships are how you first create a sense of your own identity and how you heal wounded parts of yourself. Each relationship you encounter is a mirror of your strengths, your fears, and your weaknesses.
This workbook is designed to take you on a journey of getting to know yourself better through the relationships that you have attracted. The work you do here will further your understanding of the subconscious limiting beliefs you carry about relationships. Through the belief work tools in this book, you can create more connection, more harmony, and weave more unconditional love into the tapestry of all the relationships that are in your life.