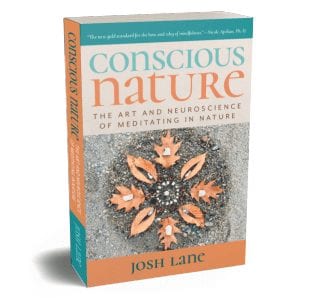 July Wild Readers Book Club featuring Conscious Nature
Looking for like-minded people to have great conversations with? Just join in! No membership fee ~ Don't even worry whether you've finished the whole book.
Wild readers consciously select stories that entertain, inspire and uplift with the deliberate purpose to influence and change our own selves into what we want to see more of in the world. Through these monthly book selections and discussions, we find connection and become the subtle ripple that shapes our community, our world, our reality into a brighter light.
We meet at Barjon's on the fourth Wednesday of the month, 7:00pm to 8:00pm, with tea and treats!
Featured Title:
Conscious Nature: The Art and Neuroscience of Meditating In Nature
By Josh Lane
Join us for discussion on: Wednesday, July 24 at 7pm
Amidst the stress and distraction of the Digital Age, it's easy to overlook the fact that our brains are adapted to thrive in close connection with the Earth, our senses keenly attuned to Nature's subtle signals. Meditating outdoors soothes the psyche, nourishes the body, and elevates creativity to new heights.
Meditation on Nature's patterns reawakens our deepest instinctive power and brightens our curiosity, as we journey into realizing our interdependence and connection with the larger web of life. Today, it's time for a reboot — and to once again invite the wisdom of the wild into our daily lives.
Through entertaining stories and over 36 engaging practices, expert outdoors mentor Josh Lane shares a pathway to exploring your own relationship with Nature for greater well-being and daily inspiration.