One-on-One Intuitive Readings by Sydney Wehmeyer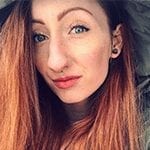 Sydney Wehmeyer has been serving as a professional clairvoyant and intuitive reader for over 5 years. Her talents were recognized from a very young age, and over her life she has honed her gifts in order to better understand, and aid, people in the world around her. In her sessions Sydney shares her knowledge and opens the pathway to help us better understand the labyrinth of our own lives. She assists in realigning with higher purpose, while utilizing the important life.
Call down to reserve your appointments today! (406) 252-4398.
30 minutes / $30
60 minutes / $50