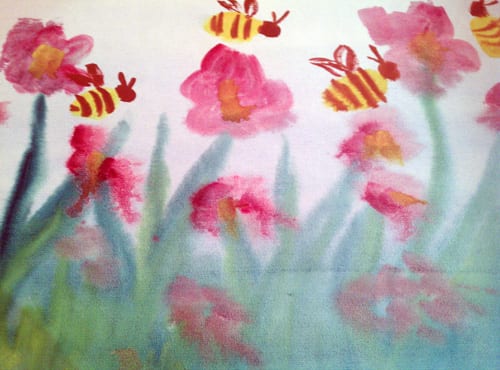 Waldorf Workshop for Grownup Folks
with Connie Jens – $5 material fee
You will need to bring:
A sack lunch
A large glass jar for water
A rag for cleaning paint brush
A small soft sponge
A 1″ or 1/2″ paintbrush
Scissors
Needle & thread (any color)
Scraps of fabric, felt & yarn
Toilet paper roll
A plant picking or other item from your yard
Long time advocate, Connie Jens, has always wanted to do a an adult workshop in Billings featuring activities children, K-2, experience on a regular basis in a Waldorf classroom. Well, now she is doing just that Saturday, June 1 from 10 a.m through 4 p.m. at Barjon's Books.
With Connie, you will explore the magic of Wet-on-Wet Watercolor painting, the comfort and warmth of Beeswax Modeling, the beauty and functionality of Beeswax Crayoning, the charm of storytelling with Table Puppets (you will make), the delight of Strawberry Fairies (you will make and wear), and the reverence of a Seasonal Nature Table you will help create. Along with these hands-on activities, Connie will give an overview of Waldorf Education and share seasonal songs, verses, and ideas for simple puppet plays.
There is a $5 material fee but no charge for the workshop itself. Bring a sack lunch.
For the Watercolor Painting – Bring a large glass water jar, a rag for cleaning your brush, a small soft sponge, and a 1″ or 1/2″ watercolor brush if you have one.
For Making Table Puppets & Strawberry Fairies – bring scissors, needle & thread, scraps of fabric, felt & yarn, toilet paper roll (yup)
For the Nature Table – bring something seasonal from your yard.
Connie will supply watercolor paint, brushes & paper, paint boards, modeling beeswax, crayoning beeswax, handouts of songs & verses, nature table items.
The workshop begins at 10 a.m. The morning session will include making simple Table Puppets and Strawberry Fairies. At lunch time (bring a sack lunch), we will create a Nature Table while we talk and eat. The afternoon will include Wet-on-Wet Watercolor Painting, Beeswax Modeling, and Beeswax Crayoning as we rotate through stations of each. We will close the workshop at 4 p.m.with a song or verse, the Waldorf way.
It promises to be a fun day. If you are interested, register now to reserve a space. For additional questions, contact Connie at: designsbyjens@gmail.com