February Artwalk – Featuring Dani the Bohemian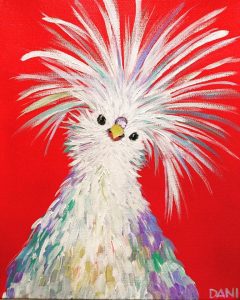 With backgrounds in Psychic Mediumship, Personal Training, and Graphic Design, Dani has spent her life creating works from the fundamental levels of each medium.
She holds a deep respect for the animal kingdom and the attributes and characteristics of many species, which often embody the traits that we, as humans, admire most. Simple characteristics and colors can be combined to create pure emotion and a profound connection. Combining her experience in print graphics and her love for the honest nature of animals, Dani utilizes only the Cyan/Magenta/Yellow/Black (CMYK) color model to create portraits of animals that personify their species. She utilizes only these primary colors and the most fundamental personality traits to portray each species in a relatable manner for all to appreciate.